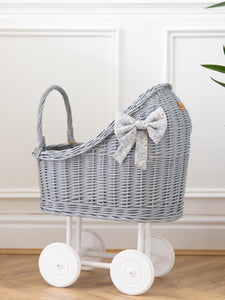 Meet our newest arrival our high wicker doll's carriage
The pram includes soft muslin bedding (mattress, cushion, blanket all in ditsy print)

- The stroller is made of the highest quality wicker.
Wooden wheels allow easy riding. They have additional rubber cover to protect the floor from scratching. The handle ensures a stable and comfortable grip.
The whole creates beautiful compositions in a retro style.
It is painted with 100% safe for children ecological water-based paint. Harmless to the environment.
Dimensions:
Width: 30 cm (11.8in)
Length: 45 cm (17.7in)
Height: 61 cm (24.0in)
Max doll size: 43 cm (16.9in)
Dimensions can be slightly different +/- 1-2 cm, due to the handmade manufacture